Logistics
Conference Dates/Times
September 21, 2023
9:30 AM–5:30 PM EDT

September 22, 2023
8:30 AM–3:30 PM EDT
Conference Location
Ruth Kirschstein Auditorium
Natcher Conference Center (Building 45)
NIH Main Campus
9000 Rockville Pike
Bethesda, MD

Note: The conference will also be livestreamed for those joining virtually. Comments from virtual participants will not be monitored regularly throughout the conference, but questions that come in from virtual participants may be addressed if time allows. At this time there is no option to present virtually.
Important Security Information
You will be required to go through NIH security and present a government-issued photo ID. Please plan to arrive 30 minutes early to allow sufficient time to get through security.
Attendees will need to enter through the NIH Gateway Visitor Center (Building 66), located adjacent to the Medical Center Metro Station at the South Drive entrance to campus from Rockville Pike / Wisconsin Avenue (Route 355). At the NIH Gateway Center, attendees without an NIH ID will need to provide a form of government-issued ID such as a driver's license or passport and state the purpose of their visit in order to obtain a Visitor's Pass to enter the campus. Please note that visitor passes must be prominently displayed at all times while on the NIH campus. Additionally, a new Visitor's Pass will need to be obtained for the second day of the conference (visitor passes are only valid for one day).
All visitors should be prepared to submit to a personal inspection prior to entering the campus. These inspections may be conducted with a handheld monitoring device, a metal detector and by visible inspection. Additionally, your personal belongings may be inspected and passed through an x-ray machine. Please note that under federal law, the following items are prohibited on the NIH campus: firearms, explosives, archery equipment, dangerous weapons, knives with blades over 2½ inches, narcotics, controlled substances, alcoholic beverages and open containers of alcohol.
Vehicle Inspections
It is strongly recommended that attendees take public transportation to the conference, but if you are driving to the conference, you should park in lot MLP 11 at the Gateway complex. Vehicles parking in MLP-11 are outside of the perimeter security and will not go through vehicle inspection, reducing the amount of time it takes to get on campus. After parking in MLP-11, attendees should proceed to the Gateway Center to get a visitor badge and either walk or take a shuttle bus to their destination. Note that vehicles left in the MLP-11 parking garage after 11pm on weekdays or during weekends are subject to ticketing and towing.
If you choose to bypass parking in MLP-11, you will need to enter the Gateway Center complex through "NIH Gateway Drive," where your vehicle will be required to undergo inspection.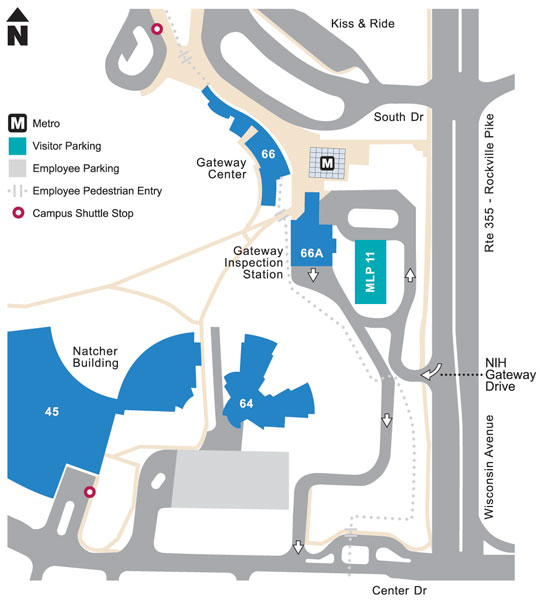 Food
Please note that food and beverages will NOT be provided during the meeting; attendees will be responsible for getting their own meals at their own cost.
On both days of the conference, the cafeteria at the Natcher Conference Center will be open on a limited basis, as follows:
Breakfast (8:00 AM – 10:00 AM)
Drip coffee
Hot tea
Assorted breakfast pastries
Lunch (11:30 AM – 1:30 PM)
Hot weigh-and-pay
Grab-n-go salads and sandwiches
Assorted sushi
Assorted bottled beverages
Getting to the Natcher Conference Center
Public Transportation
To get to the NIH campus via Metro, take the Red Line in the direction of Shady Grove to the Medical Center stop. The Natcher Conference Center is a 5-minute walk from the Medical Center station (it is located on Center Drive directly behind the Medical Center Stop). Information about the Metro transit system, including fares, schedules, and estimated travel times from other stops, can be found at http://www.wmata.com/.
Driving
Please note that there are very few visitor parking spaces at NIH, and it is strongly recommended that attendees take public transportation or a taxi to the meeting. However, if you must drive, you can take the Wisconsin Avenue exit from the Capital Beltway (Rte 495) and go 1.5 miles south on Wisconsin Avenue toward Bethesda to the 5th traffic light at Center Drive/Jones Bridge Rd. Turn right onto Center Drive. The Natcher Building is at 45 Center Drive and is located across from the Library of Medicine.
Due to increased security on the NIH campus, a guard or policeman will stop you at the entrance to South Drive and ask for your driver's license and the purpose of your visit. You will be sent to a parking lot nearby and your car will be inspected. After the inspection, you will receive a visitor pass. Continue down South Drive to the intersection with Center Drive. Turn left, and then make the third left into the visitor parking lot. This turn is immediately after the turn into the plaza in front of the William H. Natcher Building (Building 45) and just before a large intersection and traffic light.
A map of the NIH campus can be found here: https://www.ors.od.nih.gov/maps/Pages/NIH-Visitor-Map.aspx
COVID-19 Safety Precautions
The HINTS Data Users Conference will follow the guidance provided in the most recent NIH COVID-19 Safety Plan.
Please do not attend the meeting (in-person) if you test positive for COVID-19, suspect you may have COVID-19, have had close contact with a person who has tested positive for or who has symptoms of COVID-19, or experience any of the following symptoms shortly before or during the conference:
Fever, chills
Cough
New loss of taste or smell
Congestion or runny nose
Headache
Sore throat
Fatigue
Muscle or body aches
Diarrhea
Nausea or vomiting
Shortness of breath or difficulty breathing
Face masks are currently only required in NIH healthcare facilities such as the Clinical Center (Building 10). Face coverings are not required in the Natcher Conference Center, but individuals are welcome to wear a mask if they wish to, and this decision should be respected by all attendees.
Physical distancing is not required at the Natcher center, but the conference is being held in a facility that should enable physical distancing for those who would prefer to practice this precaution.
Attendees are strongly encouraged to be up-to-date with their COVID-19 vaccinations before attending the conference and to practice basic hygiene measures (e.g., frequent hand-washing) while attending the conference in order to reduce the risk of spreading COVID-19 and other respiratory illnesses.
Hotel Accommodations
The deadline to reserve a room at the conference rate has passed.